这是Jenny的第51篇原创文章
---
最近很多烦心事,很想给妈妈打电话却忍住了。以前大事小事都会求助妈妈,甚至闺女头疼脑热也要问问妈妈怎么办。现在自己年龄大了,妈妈身体也越来越差,总觉得不能这么随意打扰她了。
I have been troubled with this and that recently. I want to ring Mum to talk but I hold  back. I used to call Mum whatever happened, even when my girl was unwell. I wanted Mum to tell me what to do. Now I am getting older and so is Mum and she is not as fit as before. I think I had better not bother her so much.
曾经和姐姐聊天,姐姐也说你写写我们的妈妈吧,我们的妈妈和别人的就是不一样(妈妈的口头禅  Mum's quotes)。
I once had a chat with my sister about Mum. My sister said, please write about Mum. Our Mum is really different from others(妈妈的口头禅  Mum's quotes).
我的妈妈虽然是四十年代出生的,但是她豁达、乐观而且时尚。
My mum was born in the 1940s but she is outgoing, optimistic and trendy.
妈妈很勤快,烧得一手可口的家常菜。记得小时候各种节气我们都过得很足,端午节包粽子炸菜角炸麻叶、冬至包饺子,腊八节煮八宝粥,春天腌糖蒜冬天腊八蒜夏天做豆酱秋天做辣椒酱,妈妈从来不觉得麻烦。一年四季她会按节气安排各种应季的家常菜。
Mum is very diligent and a great cook with lots of her own secret recipes. In my childhood, I remember every festival or holiday, we had special food for that occasion. Sticky-rice wrapped with bamboo leaves, fried triangle dumplings and crispy bread for Dragon Boat Festival; dumplings for Winter-Arrival Day; Eight-precious-porridge for La-Ba Festival. We never missed any single festival without special cuisine made by Mum. Mum marinated sugar garlic in spring and green garlic in winter, prepared soybean paste in summer and chilies in autumn. She never felt it was a burden for her.
即使现在我回娘家,第二天一早妈妈准会问,今天中午想吃什么?我如果说炸酱面,妈妈会说:太简单了,这还不容易,说个复杂点的吧。她喜欢给我们蒸包子、做水煎包、茄盒、腐乳肉等等她认为更能让离家的我品尝到家乡口味而自己做又太麻烦的食物。
Even now whenever I go back my mum's place, early the next morning she'd always ask: what would you like for lunch? If I say Zha Jiang Mian- noodles with fried soybean paste. She'd respond: Easy Peasy! How about something complicated?! She likes to cook food such as steamed dumplings, fried dumplings, eggplant pie, steamed pork belly with fermented bean curd etc. – something she believes I can taste from my hometown, but it might be too much trouble for me to make myself.
妈妈也是个好裁缝,经常会给我们做衣服。她喜欢把我和姐姐打扮得漂漂亮亮的。那会儿流行的喇叭裤、蝙蝠衫、套裙她都给我们做过。她给我做过好几条粉色的喇叭裤,裤腿两侧绣上装饰的小花、小动物图案。每次我穿新衣服从学校回来后,妈妈总会问:有人夸你漂亮没有?(现在轮到我经常问女儿同样的问题了。)
Mum was also a great tailor and she used to make garments for my sister and me, to dress us beautifully. She had made then-very-popular flared pants, bat-style-blouse, and suit dresses for us. She embroidered little flowers and animals on my pinkish flared pants to make them look special. And everytime when I returned from school with a new outfit, she'd ask: Did anyone say you are pretty today? (Now it's my turn to ask my daughter the same question.)  
妈妈没有机会读大学,但是我觉得她的学问一点也不比那些所谓的文人差。妈妈总是用浅显的语言教给我很多生活常识、烹饪技能,长大后我惊讶于很多同龄人对这些知识的无知。(这就是为什么我的澳洲朋友称之为没有常识)
Mum had no chance to go to university but I believe she is so knowledgeable that she's no less than those intellectual people. Mum always uses simple words to teach us lots of knowledge for livelihood and cooking skills. When I grow up, often I am shocked that many peers around have no idea about such common sense. (That is why my Australian friend calls it un-common sense)
小时候我们有个头疼脑热的,妈妈总会有自己的土办法帮我们治病,而很少让我们随便吃药。感冒了她会在临睡前给我们做一碗酸汤面叶,让我们发发汗就好了;积食了她会用一杯加了糖和盐的茉莉花茶帮我们消食;发烧她则会喂我们半片阿司匹林和灌很多白开水。坐月子受了寒气,她会用花椒水给我烫手烫脚……
Mum has her secret remedies for illness. She hardly ever used medicine on us. For a cold, she made a bowl of hand-made soup noodles with lots of vinegar then tucked us into bed to sweat. Eating too much and feeling bloated, she made a mug of jasmine tea with sugar and salt to help us digest. For fever, she only fed us half a pill of aspirin then made us have lots of warm water. When I caught cold after having my baby, she boiled Sichuan pepper water to warm my feet and hands.
记得高一时有一个夏天的傍晚,我因为算不出一道物理难题而发脾气,妈妈用一碗冰镇的西红柿拌白糖就让我破涕为笑了。
I remember in high school Grade One, one summer evening I was bad-tempered because I couldn't solve a difficult physics question. Mum gave me a chilled bowl of tomatoes topped with sugar then I cracked up immediately.
妈妈总是有很多精辟的妙语。譬如:"好话能当银钱使"、"有啥都别有病,没啥都别没钱"、还有"病来如山倒,病去如抽丝"(我曾经用这句话安慰生病的琳达,她回答:天呢,我的丝咋抽的这么慢呢!)、"天天待客不穷,夜夜做贼不富"等等。(烤猪排 Roast Pork Ribs)
Mum has many wise quotes such as "good words can be used as money", "have anything but illness, have nothing but money", "when the illness comes, it's like a collapsing mountain; when it's gone, it's like pulling a silk thread" (I once used this expression to comfort Linda, she responded: Oh my god, my thread is pulling so slow!) "You wouldn't get poor by hosting a banquet every day, and you wouldn't get rich by being a burglar every night."(烤猪排 Roast Pork Ribs)
结婚时,妈妈教导我和婆婆好好相处。妈妈从来都能很好地处理家庭关系,和亲家处得都很好,关键时候妈妈总会给亲家以强有力的支持。
Mum taught me to get along well my in-laws when I got married. Mum is always good at relationships with her children's in-laws. Whenever they need support or help, she is always available.
妈妈到哪都能结交朋友,与人为善。以前家里是平房,妈妈和邻居处得都很好,前两年和哥嫂搬到小区里,我看没多长时间妈妈和楼上楼下又都成朋友了。即便是来我家小住,我看妈妈很快就和院子里的邻居打成一片了。
Mum is very social and good at making new friends due to her kind nature. We used to live in a row of connected houses so she always got along well with the next door neighbours. After Mum moved into a new neighbourhood with my brother and sister-in-law, she soon made new friends with those upstairs and downstairs. Even coming down to my place for a short stay, Mum would quickly be friendly to neighours around.
和她的妈妈一样,妈妈是虔诚的基督徒;周日会去教堂做礼拜,每餐饭前会端着碗说"感谢上帝",家人朋友遇到困难也会喃喃祷告。但是看了佛学的书,妈妈也会很赞同地告诉我,佛教更适合中国传统和文化。
Mum is a loyal Christian like her mother. She goes to Church on Sunday mornings. She always says thanks God while holding the bowl in her hands before every meal. She prays whenever family and friends have difficulties. But after reading some Buddhist books, she agreed and told me: Buddhism is more suitable for Chinese tradition and culture.
妈妈热爱文学,喜欢《红楼梦》等古典名著。我记得我小的时候她就订阅《读者文摘》、《十月》和《收获》。妈妈还经常从厂子里的图书馆给我们借书看(图书馆里的每个书架和那个年代颇具创意的斜面借书台都是我爸爸亲手做的啊),每个寒暑假她都会带我们去借书看,图书馆有了新书她也会第一时间给我们带回家。
Mum is a literature lover and loves the classics such as the Red Mansion. In my childhood, she already subscribed to the Chinese version of the Readers Digests and October Harvest. She often borrowed books from the factory library. (You know every bookshelf and the sloping reception desk were designed and hand-made by my Dad.) Every summer and winter holidays, she took me to the library to read books and she'd bring home the new books immediately.
妈妈喜欢看电影,喜欢好莱坞大片。有一次我把畅销书《达·芬奇密码》借给她看,看完后她感叹不已,后来给我打电话,说:你知道不,《达·芬奇密码》要拍成电影了,汤姆·汉克斯主演!
Mum loves watching movies especially western movies and Hollywood blockbusters. Once, I gave her the Da Vinci Code to read. She got so excited after she finished it. Later she called me: do you know that the Da Vinci Code is made into a movie and Tom Hanks stars!
妈妈也很浪漫、善感,可以和我一起看韩剧《巴黎恋人》而泪流满面,也可以和年轻人在KTV里高歌流行歌曲。
Mum is also romantic and sentimental. She couldn't hold her tears while watching the Korea drama Lovers in Paris. She could sing pop songs with young guys in KTV and enjoyed every moment.
妈妈喜欢唐诗宋词,喜爱毛主席诗词,她可以大段大段地背诵毛主席诗词。小时候她喜欢训练我们背诵唐诗宋词。每次晚上出去散步或者走亲戚的路上,她都会教我一首古诗,一去一回的路上就记住了。春节我们兄妹三人就是看谁背的多,拿的压岁钱就多。一首一元钱,如果是像《长恨歌》那种特长的就加倍。
Mum loves ancient Tang and Song poems and also loves Chairman Mao's classics. She can recite them fluently. And she trained us to recite ancient poems while we were children. Every night while we went for a walk or to visit my grandparents, she'd teach me a poem and made sure I remembered it upon arrival home. Then especially on Chinese New Year, she would test us how many poems you could recite and award you with a red envelope. Each poem was one yuan award. A long difficult poem would get paid double.
有一次我们带妈妈去开封清明上河园看《东京梦华》的演出,妈妈赞不绝口。第二天我回家,发现她手捧一本《宋词选》,正在核对演出里每首词牌的出处,我逗她:您太有专业精神了。
Once we took Mum to visit Qingming Theme Park in Kaifeng and watched the night show Dream in Dong Jing (the ancient name of Kaifeng). Mum liked it so much and kept talking about it. The next day when I got home I found she was holding a Song Poems book and checking the origins of every poem in the show. I joked: You've got professional spirit!
啰啰嗦嗦写了这么多,不知道该写什么结尾了。这是2005年我在奥克兰一家书店给妈妈买的冰箱贴(我注意到不论搬家还是换冰箱她都很小心地带着,尽管上面只有英文),就用冰箱贴上面的这段话结束吧(当然还有妈妈的河南炸酱面菜谱啊):
Sorry I have been going on so much and really I don't how to end this essay. This is a fridge sticker I bought for Mum in an Auckland bookstore in 2005 (I noticed she always keeps it - even when moving to a new house or changing to a new fridge, though there is only English). Allow me to use the words on the sticker to end.(And of course Mum's recipe of Henan noodles with soybean paste )
Dear Mum
   You're very special.
   You always show your care.
   I love you very much—
   So thanks for being there……
亲爱的妈妈
您很特别
您总是很关心我们
我非常爱您
谢谢有您的陪伴……
菜谱:妈妈的炸酱面(河南版)
Recipe: Mum's Noodles with soybean paste(Henan Style)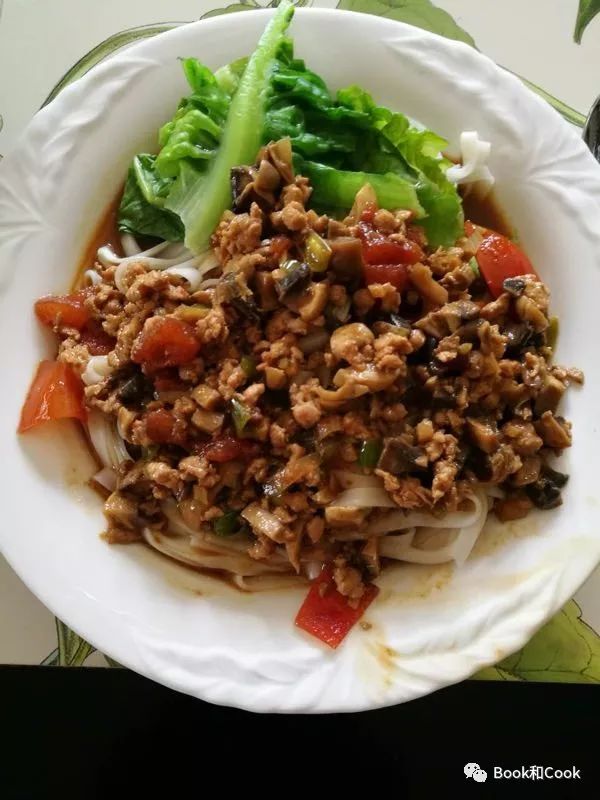 食材:
1、猪肉馅1斤(可肥瘦相间也可纯瘦);生姜1块,切碎;大葱一段,切碎;
Minced pork(can be fat and lean mixed or pure lean ) - half a kilo; one thumb of ginger, one stem of Chinese onion, both finely chopped;
2、鲜面条2斤;菠菜或小青菜1斤,洗净晾干;红萝卜1-2个,切丝;菠菜和红萝卜煮面最后放进去;
Fresh noodles 1 kilo; Spinach or green leaf vegetables, wash clean then rinse; carrot 1-2, sliced; spinach and carrots for boiling with the noodles when the noodles are nearly well-cooked.
3、食用油400克;花椒,1茶勺;
Cooking oil 400 gram; Sichuan pepper 1 teaspoon;
4、王致和甜面酱和干黄酱各半混合,3-4汤勺;(我一般都是将各一袋混合后放在保鲜盒里,吃的时候随取随用);
Wangzhihe brand soybean paste and dried yellow paste, mixed  half and half, 3-4 tablespoons (I often mix one pack each in a food container then use conveniently)
5、香菇8-10朵,切碎;黄豆芽半斤;西红柿1-2个,切碎;
Mushrooms 8-10, finely chopped; soybean sprouts, 1/4 kilo; tomatoes 1- 2, finely chopped;
6、红薯粉芡2汤勺。
Sweet-potato starch, 2 tablespoons.
做法 Method:
1.  小汤锅或水壶烧好开水;
Boil a pot or kettle of water;
2. 炒锅放入食用油,油热放入花椒,待出味时将花椒剔出来;
Put cooking oil in the wok. When it's hot add Sichuan peppers ; when aroma arises, remove the Sichuan Peppers;
3. 转中火,放入肉馅,翻炒,待出油时,再放入甜面酱和干黄酱的混合;与肉馅翻炒2-3分钟;
Turn to medium gas; put the mince in, stir fry and when the pork fat melts, then add the soybean paste mixture; stir fry with mince for 2-3 minutes;
4.放入开水,记住一定是开水,这是妈妈的秘诀,否则凉水煮不出来酱的香味;
Pour in boiling water; remember this is Mum's secret that it must be boiling water as otherwise cold water can't lift the aroma of the paste;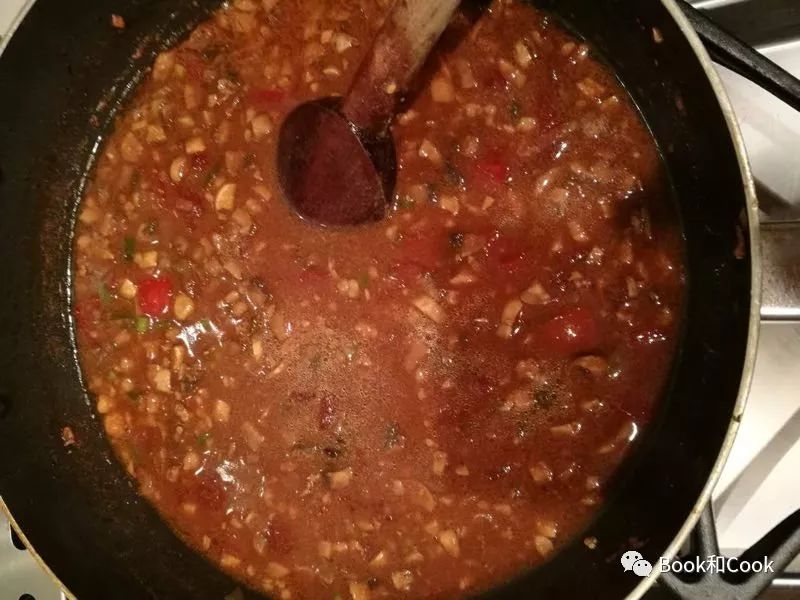 5. 放入西红柿碎和黄豆芽,香菇;一定要把西红柿煮茸了;
Put tomatoes, soybean sprouts, and mushroom; Make sure the tomatoes are well cooked to give out the flavour;
6. 转小火煮3-5分钟后;冷水勾芡,然后缓慢倒入炒锅,煮1分钟,待卤浓稠,关火。
Turn to low gas and boil for 3-5 minutes, then pour starch into water. Mix the starch with cold water in a bowl then slowly pour into the wok to boil for 1 minute when the broth is thick and tasty. Turn off the gas.
7. 另起汤锅煮面,面快熟了放入菠菜和红萝卜丝;捞出面盛在大碗里,浇上炸酱卤。
Put on a cooking pot to boil noodles on another gas jet. When the noodles are nearly ready, put the vegetables in to boil until well cooked. Scoop the noodles in a big bowl then top with the broth.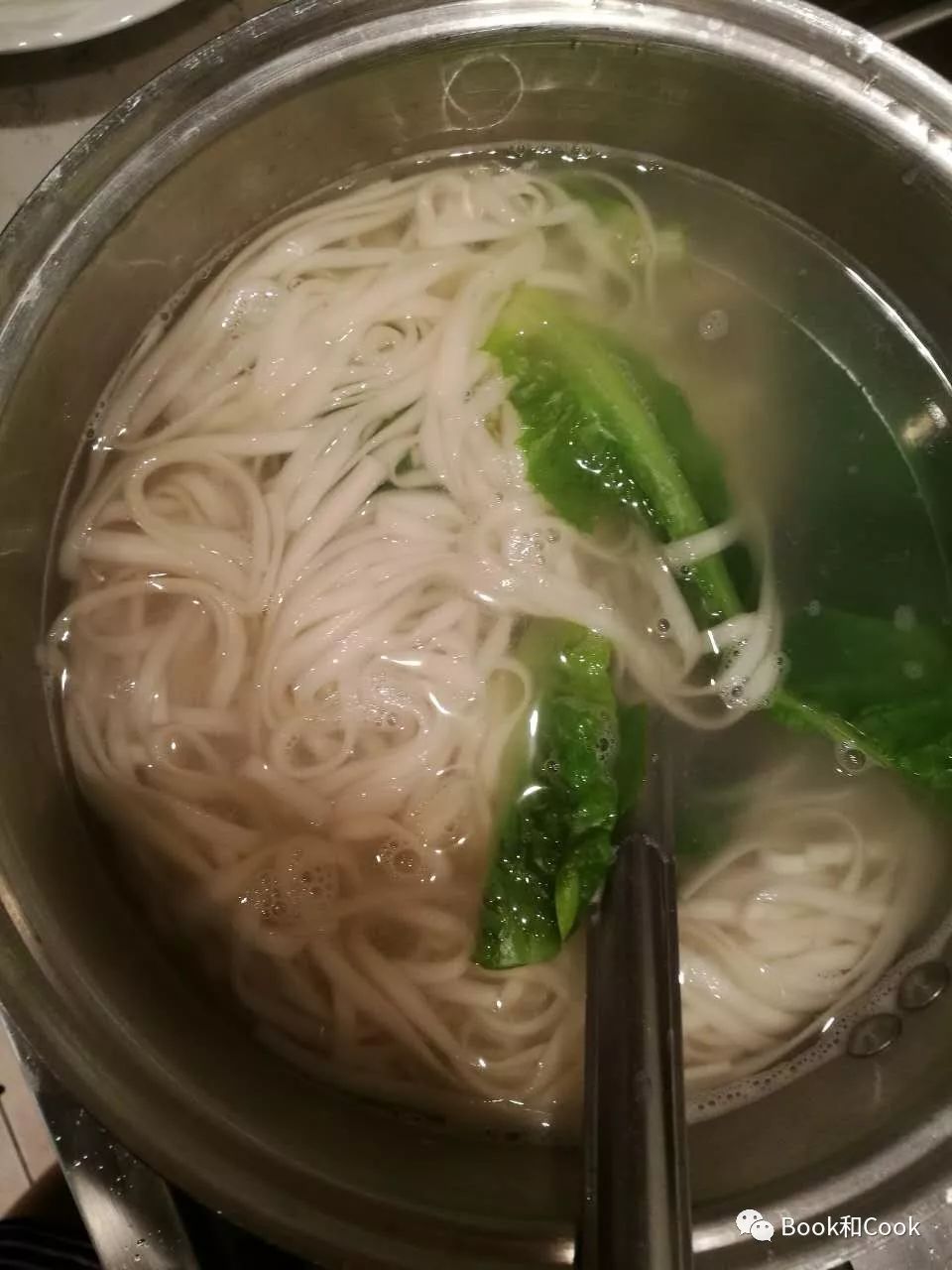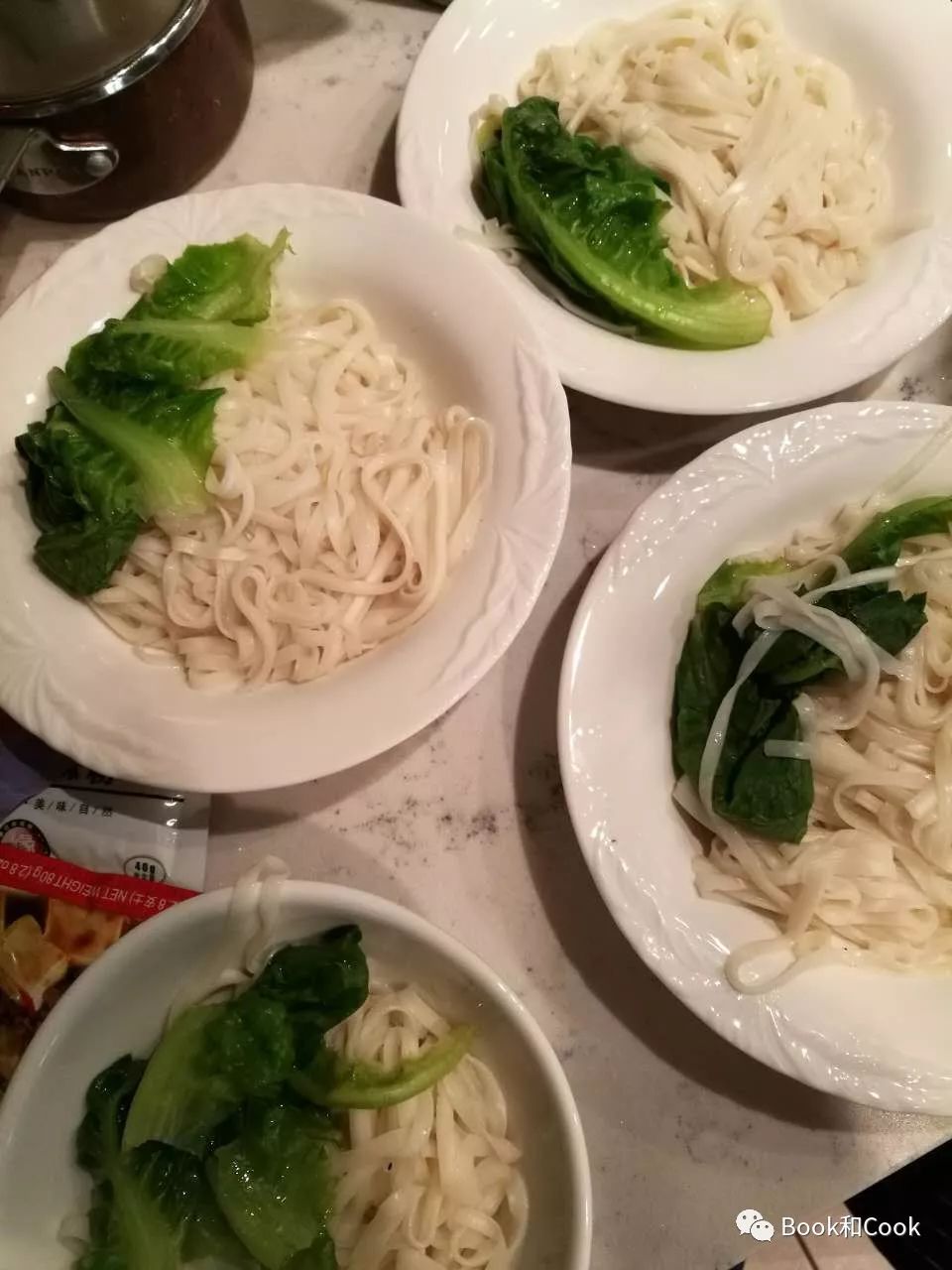 这是4-5人份。
Serve for 4-5 people. 
文字编辑:Lily   摄影:Ava
赞赏词:妈妈做得菜才是我们的最爱。
Mum's home-made dishes are our favourite!.
延伸阅读:越努力你就越幸运 The harder you work, the luckier you get
文章版权所有,媒体转载前请联系 jennyhe1@foxmail.com
苹果读者,可二维码自由赞赏,感谢您的支持。